PARTNERS
Country Team Concepts, LLC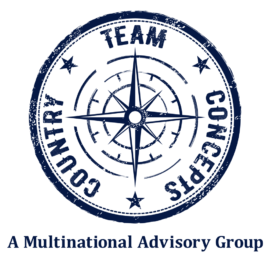 Country Team Concepts is a multinational advisory group comprised of accomplished foreign relations professionals from the diplomatic, governmental, humanitarian, and private sectors. Their collective experience, forged through operating in the world's most challenging environments, spans the spectrum of international affairs. As career practitioner advisors, they have cultivated trusted relationships, bridged cultural differences, and developed nuanced insights essential to providing their clients with appropriate, timely, and relevant considerations to enhance operational capabilities.
Their process is designed to replicate the multifaceted advisory board utilized to brief ambassadors and government leadership in diplomatic missions throughout the world, called Country Teams. By following this methodical approach, they consider an array of perspectives including security, political, intelligence, economic, managerial, public relations, and development in order to provide comprehensive counsel to their diverse clientele.
As a proud partner in this select, like-minded consortium, they support capacity building and training for leadership and staff through their professional development section. Organizations are imparted with best practices and principles to help them provide superior duty of care and social responsibility.
In 2021, Prosectra and CTC entered into a partnership to deliver world-class security training and security advisory services.