IN-PERSON TRAINING
STREET SURVIVAL TRAINING
STREET CRIME – THE SHOCKING FACTS
Street crime today has become a major source of fear among the members of the public because victims face a sudden threat to life, a loss of control and an invasion of personal space. Street robbery is an especially fear-inducing crime because of the context in which it is likely to occur—during the course of someone's normal everyday routine or activities.
Surviving a street robbery or mugging is not a straightforward matter. Compliance may not ensure survival and knowing the exact survival process to follow will be complicated if all the dynamics of the situation have not been considered. The Street Survival program will break down and analyze the processes used by the financial predator and give you the tools to realize if you are being set up for a crime.
DEVELOPING YOUR SECURITY AWARENESS
People on the verge of committing a criminal act will be nervous – nervous about being caught, nervous about getting what they want or nervous about being hurt. Some violent criminals may be able to hide this better than others but invariably there will be some form of nonverbal signs or signals leaking out. Most people know and understand what type of behaviour is normal when browsing in a shop, sitting in a restaurant or riding on the subway and this is even truer the more familiar with the environment you are. Therefore having good situational awareness will draw your attention towards people whose behaviour is abnormal or inconsistent with their environment. This doesn't mean that people exhibiting "abnormal behaviour" are automatically a threat but they are certainly worthy of your attention.
WHAT IS "NORMAL" IN YOUR ENVIRONMENT
Being able to determine what constitutes suspicious behaviour requires at least a basic understanding about what is "normal" in your environment. With this basic understanding you can more readily determine if someone's behaviour is inconsistent with the location and remove yourself from the location avoiding a potentially dangerous situation all together. The Street Survival program will introduce simple safety tips, strategies and routines that will highly develop your situational awareness and your own personal security.
THERE IS A TIME TO COMPLY AND A TIME  TO ACT!
When somebody demands getting something from you with the threat of violence, and they have the means to enforce their demands – either through weight of numbers, physical size and ability or a weapon – then the only way to avoid a physical confrontation is to comply. If an aggressor wants to move you from one location to another, compliance should be the last thought on your mind.
THE ATTACKER ALWAYS HAS THE AMBUSH ADVANTAGE
Before developing your physical defensive strategies you must first understand that the attacker always has the ambush advantage. He knows when and how he will attack. You must also understand what your body will do prior to any training and how this ambush will trigger an emotional response; your natural survival response to danger.
If faced with an attacker twice your size who initiates a surprise attack, it's just not feasible to rely on strength and power, your attacker will prevail every time. Also, real life is not like Hollywood, your first response will not be to defend with a complex motor skill; your survival instinct will trigger the emotional response.
I will help you understand how humans behave when ambushed and how to utilize your natural response to danger as an effective self-defense tactic. Only once you are psychologically in control of yourself can you transition to a complex motor skill. And what complex motor skill you use depends on your basic understanding of biomechanics, physiology and anatomy. The Street Survival program will break that down for you in a simple and easy to learn process.
THE 5 Ds OF SELF-DEFENCE
The Street Survival program follow's the 5 Ds of Self-defence: 1. Detect, 2. Defuse, 3. Defend, 4. Disable and 5. Disengage.
CLASSROOM THEORY MODULES
The class room theory modules in the Street Survival program look to develop the most important components from the 5 D's of self-defense 1. Detect and 2. Defuse.
THEORY MODULE 1: MUGGINGS & THE FINANCIAL PREDATOR
understanding the financial predator 6 step process, how their location choices will surprise you, looking at low risk/low yield vs high risk/high yield, pre-attack indicators, the right way to comply, when it's time to act, the bag snatcher, dealing with group muggings
THEORY MODULE 2: DE-ESCALATION
spontaneous and pre-meditated violence, what you need to know about conflict resolution, acknowledging a person's right to be angry, don't adopt the role of a victim, respect yourself, don't over explain the situation, trying to find common ground, present alternative solutions, dealing with adult bullies, egotistical narcissists – third parties who may get involved, simple steps to effective de-escalation
THEORY MODULE 3: HOME & CAR SECURITY
effective car security strategies, what to do when approaching your car, reducing the dead zones in front of your house, getting from your car to your home, what not to do, safety strategies, utilizing tools and technology to your advantage, when you first enter your home, dealing with strangers at your door, home invasion at night, what to do if someone is inside your home
THEORY MODULE 5: ADRENALINE & FEAR MANAGEMENT
what is fear, biological vs psychological fear, how negative inner 'self-talk' creates inertia, how fear and anger are chemically the same emotion, developing a fear management plan, what is tactical breathing and tactical scanning, how you act if trained or untrained in fear management, developing a survival mindset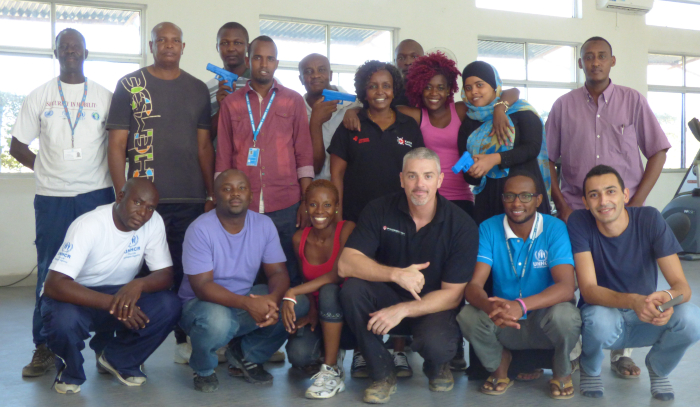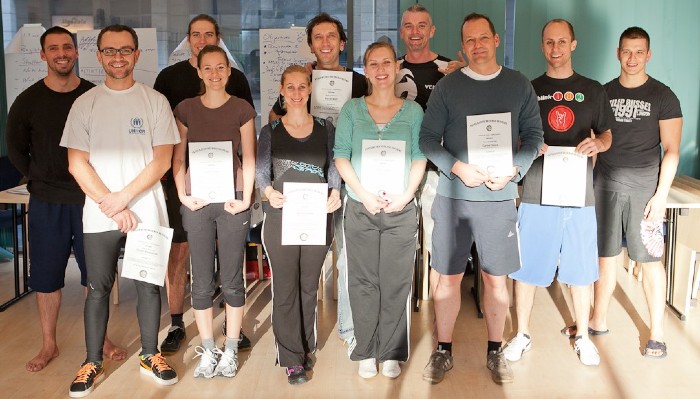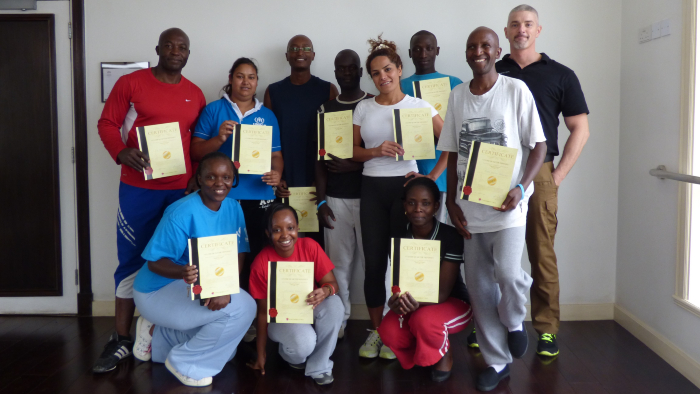 DEVELOPING YOUR PHYSICAL ABILITY
The physical techniques in the Street Survival program are suitable for men and women with no previous martial arts or self-defense experience (and all fitness levels), and are designed to get the novice or beginner to a high state of proficiency in the shortest possible time. We teach techniques according to principles and concepts, rather than just straight repetition. This speeds up and enhances the learning process.
MODULE 1: DEFENDING THE MOST COMMON STANDING UNARMED ATTACKS
Level 1: Chokes & Headlocks From The Front
Level 2: Chokes & Headlocks Against A Wall
Level 3: The Tackle
Level 4: Chokes & Headlocks From The Rear
Level 5: Common Strikes To The Head
MODULE 2: GROUND SURVIVAL DEFENSES AND ESCAPES
Level 1: Escaping From The Bottom (Mount)
Level 2: Escaping From The Bottom (Guard)
Level 3: Submissions From Guard (Arm)
Level 4: Submissions From Guard (Choke)
Level 5: Ground Weapon Defenses
MODULE 3: DEFENDING AGAINST GUN, KNIFE AND BLUNT INSTRUMENT ATTACKS
Level 1: The Most Common Knife Attacks
Level 2: Hand Gun Attacks
Level 3: Aggressive Knife Attacks
Level 4: Blunt Instrument Attacks
Level 5: Advanced Weapon Defenses