IN-PERSON TRAINING
HOSTILE ENVIRONMENT AWARENESS TRAINING
"Excellence is an art won by training and habituation. We do not act rightly because we have virtue or excellence, but we rather have those because we have acted rightly. We are what we repeatedly do. Excellence, then, is not an act but a habit." Aristotle
PROSECTRA HEAT COURSE
It is every employer's duty to ensure that their staff is prepared and ready to face the challenges hostile environments brings with it. Prosectra will deliver a course designed for you and your unique challenges, thus mitigating one of the biggest risks; lack of preparedness.
The course will demonstrate how to reduce your risks and increase your operational effectiveness in difficult situations. The aim is to make the participants confident enough to become self-reliant in determining and mitigating risks.
These training programs are always a blend of classroom, group work, and outdoor exercises, using scenarios relevant to the environment of the client.
PROSECTRA MODULAR APPROACH
Prosectra designs HEAT training with a modular framework for in-service training (INSET). A module can be defined as a unit, chapter, topic, or segment of instruction. There are several advantages to a modular presentation. The most important one is that it allows for better evaluation and more focused revision and improvement.
Modifying a module is easier and more cost effective than revising a course or one large module. Another advantage to a modular approach is that parts of the course can be used and reused elsewhere in other courses.
Courses that are already in a modular format are ultimately more flexible and easier to convert for delivery in other formats. All of this ensures the client gets the highest quality at the lowest cost possible.
PROSECTRA ADVANTAGES
Course duration and location to suit client needs (we come to you)
Instructors selected for their vast knowledge and area of expertise
Up-to-date country information for the entire world
Instructors have lived and worked in high-risk environments
Realistic, challenging scenarios
E-Learning makes the workshops more effective; all are at the same level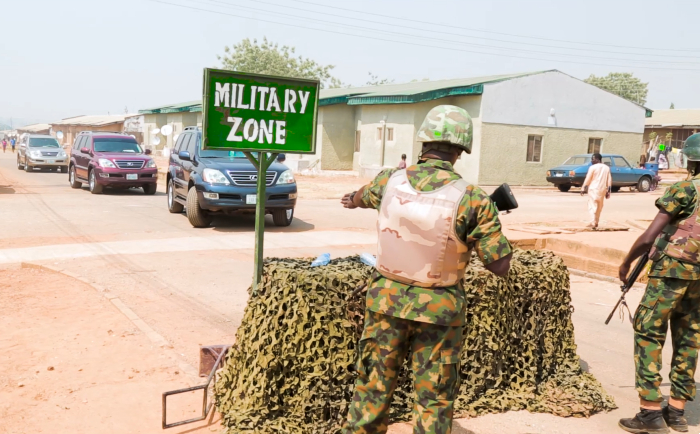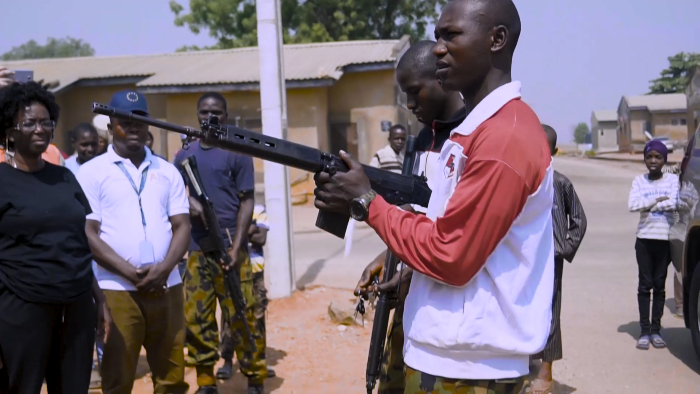 Election Observation Mission – Abuja, Nigeria
COURSE DURATION OPTIONS
Prosectra offers 2, 3 and 5 day options dependent on client requirements.
2 DAY HEAT
Prosectra has designed a world leading Online HEAT Course covering all theory that would normally be delivered in classroom. The Prosectra HEAT Online Course combines audio / video instruction, video simulations, interactive scenarios and quizzes across 14 modules. The course concludes with a final test to prove knowledge retention and the Prosectra Learning Management System tracks progress, certification and generates compliance reports for senior managers. The course can be completed in your own time and takes approximately 12 hours of learning to complete.
The following Modules are included:
Introduction to First Aid
First Aid Emergencies
First Aid in Conflict Zones
Cultural Awareness
Operations Security (OPSEC)
Radio Communications
Defusing Anger & Hostility
Surviving Crowds, Mobs & Riots
Mines & UXOs
Weapons Awareness
Driving in High-Risk Environments
Surviving an Active Shooter
Hostage Survival
Final Test
With participants completing all of the theory online, we can then set up a 2 day field simulation exercise.
3 DAY HEAT
Online pre-study eLearning as shown with 1x classroom day recap of all theory followed by 2x full simulation days in the field.
5 DAY HEAT
This option includes 3x classroom days covering all theory and 2x full simulation days in the field.
THE PROSECTRA TRAINING PHILOSOPHY
Prosectra draws on a pool of expert trainers from large parts of the world, with real-life, hands-on security practice from some of the world's most dangerous environments.
We feel the most important skill of a trainer is to allow the trainees to discover and understand security, rather than being told "do it this way". We are committed to the training concepts of adult learning.
Our training uses a range of different training methods, including lectures, group work, individual reflection, role plays, simulation exercises and videos. We have a particular focus on realistic scenario exercises that are a practical learning experience and provide you with the skills to make a quick response when working in humanitarian emergencies.
Our courses are facilitated by our staff and other highly experienced international practitioners. They are a mix of former Humanitarian Security Officers, United Nations Security Officers, Law Enforcement Officers, Customs Officials, Intelligence Officers, Special Forces Operatives and Commercial Security Practitioners, with a combined working experience from more than 50 countries.
PROSECTRA HEAT IN-PERSON TRAINING MODULE STRUCTURE
THREAT AND RISK IDENTIFICATION
How to identify and prioritize threats
Rate risks
The use of the Risk Matrix
SECURITY PLANNING
Office security plan
Contingency plans
SOPs
FIRST AID
Designed for conflict zone
Using up-to-date equipment and procedures
KIDNAP AND HOSTAGE SURVIVAL
The five stages of hostage survival
Impact on family
Recovery and trauma
SITUATIONAL AWARENESS
Awareness levels
Crime triangle
Determining awareness baselines
Detecting anomalies
VEHICLE SAFETY & SECURITY
Checkpoints
Ambushes
Parking
Vehicle search
ACTIVE SHOOTER SURVIVAL
Escaping
Denying
Attacking Back
LANDMINES AND IEDS
Latest IED techniques
Landmine safety
HOSTILE SURVEILLANCE
Surveillance zones
Detecting surveillance
WEAPON KNOWLEDGE
Impact and range of various weapons
Concealment vs cover
DEFUSING ANGER & HOSTILITY
Recognize anger in others
Effective listening
De-escalation strategies
RADIO COMMUNICATION
Phonetic alphabet
Pro-words
VHF
HF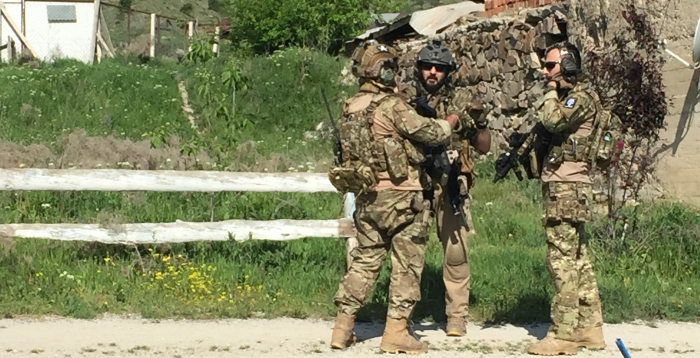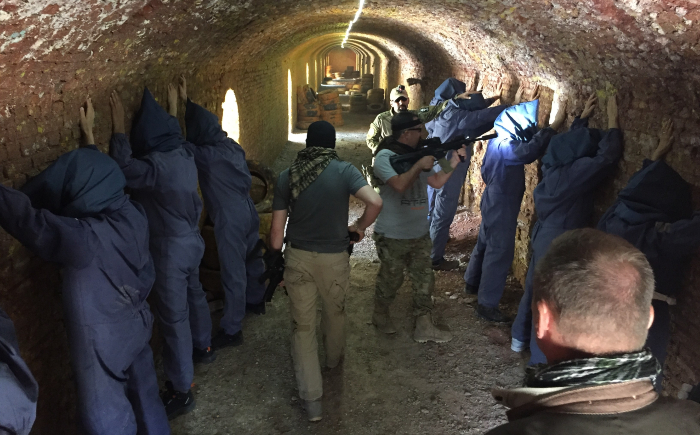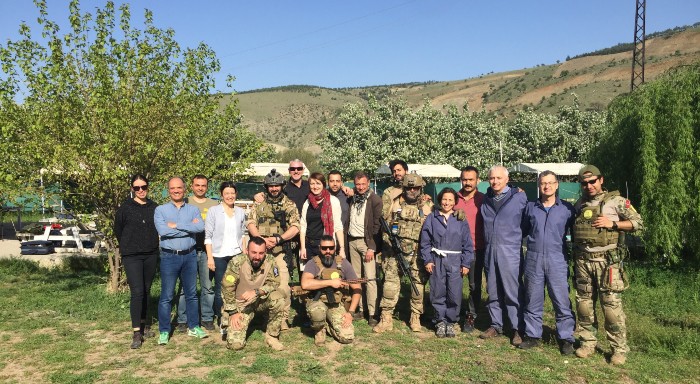 START AT HOME!
PROSECTRA has developed the world-leading Hostile Environment Awareness Training Online eLearning course. Blended learning is that perfect combination of our online eLearning content and in-person skills sessions. This allows PROSECTRA to deliver a blended learning program. It starts with pre-study eLearning, ensuring all students have achieved a minimum standard and start at the same level.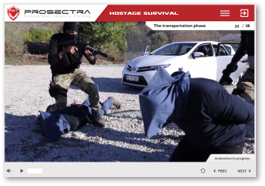 EVOLVE IN THE CLASSROOM!
The classroom theoretical sessions contains presentations, analysis, open discussions, individual exercises and group work. The focus is to increase awareness and train participants to recognize and mitigate potential threats and respond appropriately to safety and security incidents.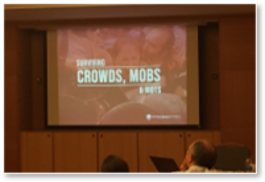 FINISH WITH AN EXERCISE!
Our real-life simulations provide students with genuine experiential learning by immersing them in the training. We develop the scenarios specifically for the students attending each course and the settings that they will be working in. Our scenarios are all based on real-life examples and the latest research into INGO security incidents.